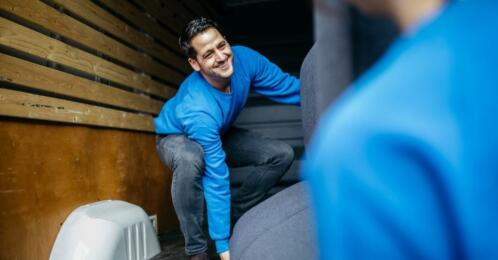 With a full load back and empty again. It is the fate of most vans in our country. Start-up of the week Brenger wants to use that unused space to transport consumer purchases online.
What is Brenger?
A platform for sending items from or to private individuals. Mainly big things that do not fit through the mailbox like furniture, fridges and two-wheelers. So far not much news under the sun.
Nevertheless, this startup tackles things slightly differently than many other delivery services. Indeed, Brenger links a transport request to the unused space in cars and delivery vans that are already driving in the desired direction. Often those vans drive in one direction and empty again.
By using that space for a new transport, the deliverer can earn an extra pocket money and the applicant in turn is slightly cheaper. Good for the wallet, good for the environment. Because less mileage on the road is less CO2 in the air.
Who are behind it?
Brenger was founded by Derk van der Have (26) and Wisse Koedam (25). Van der Have studied International Relations, Koedam did Finance and both graduated in Groningen. At that time, they regularly worked out business cases together. After internships with Heineken and Roland Berger respectively, they came up with the concept for Brenger.
Who are we waiting for?
You would think: a lot of people. At Marktplaats alone, some 10 billion euros worth of products are sold annually and on top of that come the articles that their new owners find via online auctions. Brenger sees transactions where larger items are involved as their potential.
In addition, Brenger is an option for people who have to rent a van for transport or need a courier. Because such a couch, cupboard, table, bicycle, moped do not happen on the back seat of your Fiat 500. Through Brenger you come into contact with people who have space and yet would go all that way.
See also: This is how PickThisUp wants to share 8 million trunk trays
How far is Brenger?
The service has been online since October 2016 and since then the website has been regularly optimized based on feedback from users. "In January of this year we released a major update and since then we have recorded strong growth", says Van der Have. In January Brenger had only one assignment per day, now the platform is on one hundred assignments per week. At the end of this year, the service hopes to be able to help forty customers a day.
Afraid that there will be a shortage of space in the long run for delivery staff, Van der Have is not. "We do not see that happening yet, because the growth is clearly visible. In the initial phase we sometimes had to arrange a transport ourselves, because an appointment did not go well. Fortunately, that is almost no longer happening. We do not want to be a transport company either, so we will stay away as much as possible. "
What is the business model?
The pennies come in by asking a commission on both the demand and the supply side. Do the client and delivery person find each other via the platform? Then Brenger receives a percentage of both of them on top of the agreed price. For the client this is 1 euro, plus 7.5 percent of the reward. The delivery person provides 10 percent of that reward.
The price of the delivery is also dependent on the distance and the date. The greater the distance, the higher the price. Best logically of course. And the same goes for faster delivery. Do you want the product the next day, then you pay for it. In any other case, the delivery is arranged within five days.
Although the founders realize that their concept is relatively easy to copy by a large parcel deliverer, do not expect this to happen soon. "We are very service-oriented and develop rapidly. I sometimes want to see that another party reminds us of this, "says Van der Have. There are no plans for foreign countries yet. Brenger first wants to further conquer the Dutch market.
In need of investments?
Thanks to a substantial investment round of 350,000 euros last April, the platform can certainly advance one to one and a half years. Extra money is therefore not necessary for the time being.