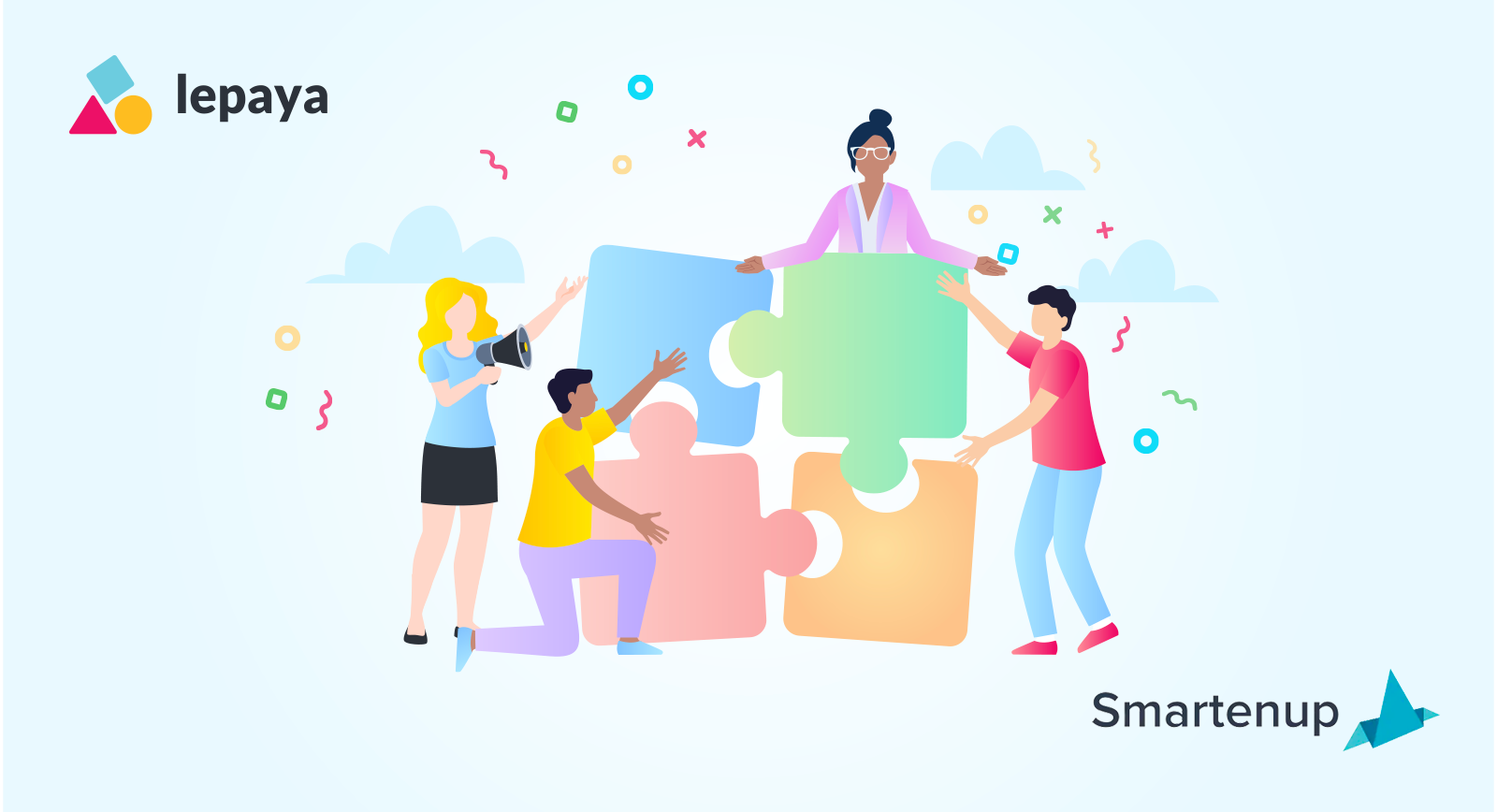 Softskill scale-up Lepaya acquires Smartenup
Disrupter training market expands offering by bringing soft and hard skills together
Amsterdam, 24th November 2020 – Softskill scale-up Lepaya  announced today that it has acquired Smartenup, a training company that supports professionals to work better, faster and smarter with data. Lepaya, specialized in offering blended soft-skill training, takes the next step as a challenger to traditional training institutes with this acquisition. By combining hard skills with soft skills, the Amsterdam-based company is equipped to grow even faster in the ever-changing labour market – in which the demand for retraining and reskilling continues to rise. After a recent investment round of 5 million, Lepaya has executed this acquisition independently.
The digitization of the labour market has accelerated due to the corona-crisis. Professions are changing, and jobs are disappearing: it's expected that 50% of workers will need to retrain their digital skill set to remain sufficiently qualified. In addition, there is also a growing need for interpersonal skills. The top 3 essential skills for jobs in 2025, according to the World Economic Forum, will be analytical thinking, active learning and complex problem-solving skills. With this acquisition, Lepaya strengthens its position in the training market by combining analytical skills with soft-skills.
"The employee of the future needs skills instead of diplomas. By fusing the expertise of Smartenup with the proven soft skills method of Lepaya, we offer the full spectrum of skills required. Together, we want to make training and retraining effective and accessible to everyone and to become a major international player in the training market", explains René Janssen, Managing Director and co-founder of Lepaya.
"As a professional of the future, you need both soft-skills and hard-skills. We are really good at hard-skills, Lepaya at soft-skills. We work almost identically, with a combination of trainer-led training courses and self-study via intuitive technology, both receive good customer feedback, serve comparable customers and are planning to develop similar training courses. The conversation went quite quickly, and all of Smartenup team members will remain involved with Lepaya. We look forward to accelerated growth together!", explains Eric Haase, co-founder of Smartenup.
Both companies have experienced explosive growth since the outbreak of the coronavirus and are responding to the demand for innovative training methods. Through a blended approach and a unique combination of both online and offline training courses, Lepaya meets the needs of future-proof organizations. The success formula that focuses on impactful, application-oriented and measurable training will also be applied to Smartenup's hard skills training courses.
For more information, contact:
René Janssen | Founder & Managing Director of Lepaya
rene@lepaya.com | +31 (0)6 306 42 695
Lepaya is a provider of soft skill training that combines both online and offline learning. Lepaya was founded in early 2018 by René Janssen and Peter Kuperus, who, based on their experiences in both the corporate world and the scale-up scene, saw a need for training courses that change behaviour in a sustainable manner. In these times of rapid change, it's essential for companies to train staff quickly and efficiently to be successful in the long term. Lepaya focuses on the Netherlands, Belgium and Germany and serves its customers worldwide, including in the US and Spain. More information about Lepaya: www.lepaya.com
Smartenup's mission is to motivate people to improve their data literacy and analytical skills. The company was founded in 2013 by Eric Haase and Kees van der Meeren, from the core insight that data is becoming increasingly important, and that every person has the intrinsic need to develop further. Smartenup distinguishes itself by energetic, relevant learning paths regarding data, compared to often traditional players who see data as an IT component. Smartenup receives extremely high feedback from customers due to its refreshing approach, relevant content and energetic trainers. More information about Smartenup: www.smartenupcs.com